Yee sang atau lou sang adalah menu istimewa untuk Tahun Baharu Cina. Sejak tahun 2011, pihak kami mula menerima pertanyaan bagi sediaan menu yee sang halal mengikut prosedur Islam. Justeru Cef Hana mengambil inisiatif untuk belajar sajian khas ini.
Versi atau kandungan yee sang atau lou sang ini banyak, mengikut kreativiti seseorang tukang masak atau cef yang menyediakannya.
Ketika satu sesi katering Tahun Baharu Cina 2013 (yang masih hangat berlangsung), seorang tetamu bertanya kepada sahabatnya, lebih kurang begini, "Kandungan sayur ini adakah?" Beliau menunjuk jenis sayur tersebut.
Rakannya itu menjawab, "Tidak kisah. Janji ia sayur. Ikut kreativiti masing-masing."
Dari info yang saya peroleh, sajian ini dikatakan

berasal

d

ari

negara China. Namun versi kontemporari dihasilkan dan dipopularkan pada era 1960-an di kalangan komuniti bangsa Cina di beberapa

tempat

. Paling menarik ialah hari perayaan Tahun Baharu Cina di Malaysia, Indonesia dan Singapura sering dikaitkan dengan menu istimewa ini.
Sepanjang pengalaman Lusiana Catering, pihak syarikat dan komuniti bangsa Cina di Kuala Lumpur dan Selangor tidak sah sekiranya sajian ini tidak disediakan di majlis sambutan Tahun Baharu Cina. Ia sebagai simbolik kemakmuran, justeru sajian ini juga disebut sebagai yee sang salmon kemakmuran (prosperity salmon yee sang).
Dalam laman web Wikipedia, ada tertulis, "

Yusheng

,

yee sang

or

lou sang

or

prosperity toss

, is a Teochew-style raw fish salad. It usually consists of strips of raw fish (most commonly salmon), mixed with shredded vegetables and a variety of sauces and condiments, among other ingredients

."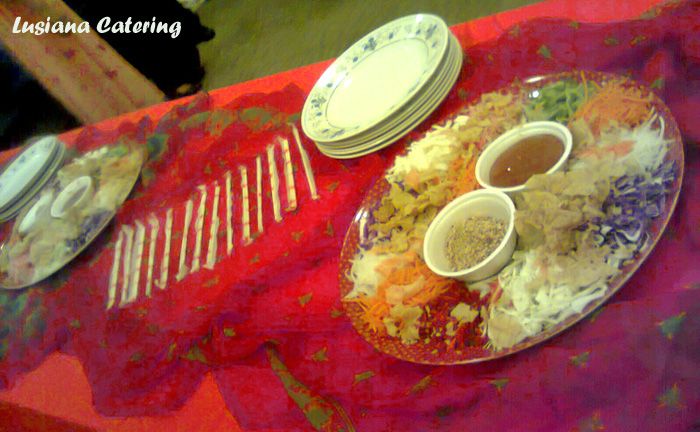 Di Malaysia, Indonesia dan Singapura, ikan salmon menjadi jenis ikan yang paling terkenal sebagai elemen kemakmuran

dalam penyediaan yee sang.
Lusiana Catering berbangga dengan pesanan saban tahun, sejak 2011, terhadap sajian istimewa kaum Cina ini. Kami belajar dan mahu terus belajar, justeru makanan yang pelbagai ini adalah anugerah Allah untuk umat manusia.